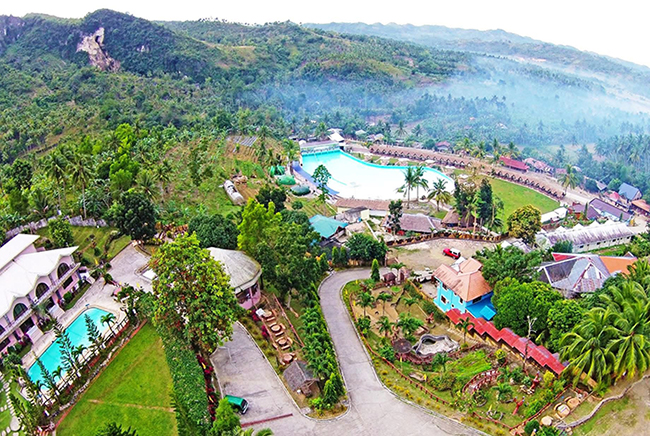 Travelling to this mountain resort is an adventure in itself as the road winds its way up over scenic rice fields and mountains.

Located 14 kilometers away from the town proper, the Hidden Valley Mountain Resort is owned and managed by the Lamac Multi-Purpose Cooperative (LMPC).

It is a perfect place for relaxation, swimming, conferences, seminars, meetings, weddings, parties, reunions and other such gathering or celebrations.

The mountain resort - which has two big pools for adults and two small pools for the kids - is one of the best places to commune with nature and enjoy its serenity.
Address: Lamac, PInamungajan, Cebu
Owner: Lamac Multipurpose Cooperative
Tel No.: 032 - 468-8025 / 032 - 516-2576
Cell No.: 09175029513 / 09057760538
Email: hiddenvalleyresort@yahoo.com
Amenities: Wavepool / Zipline / ZipBike / Swimming pool / pool W/ Jacuzzi / Cottages / Restaurant / Resto Bar / Big Kiosk with videoke/ Playground. please click here to see the rates of the amenities
OVERNIGHT STAY
| ROOM TYPE | CAPACITY | RATE |
| --- | --- | --- |
| Single Rooms (w/ TV & Ref) | 2 pax | P2,500 per day |
| Verge Rooms (wavepool area) | 4 pax | P3,500 per day |
| Family Rooms (w/ TV & Ref) | 4 pax | P3,000 per day |
| Family Rooms | 6 pax | P2,450 per day |
| Dormitory Pedro | 12 pax | P3,800 per day |
| Dormitory Peping | 12 pax | P3,800 per day |
| Dormitory Nagkawa | 16 pax | P4,000 per day |
| Dormitory Naglapus | 16 pax | P4,000 per day |
| Dormitory Lourdes | 16 pax | P4,900 per day |
| Dormitory Fatima | 16 pax | P4,900 per day |
| Dormitory Limod | 16 pax | P4,900 per day |
| Dormitory Pangi | 30 pax | P8,750 per day |
TERMS:
– All rooms are airconditioned.
– Standard check-in: 2PM
– Standard check-out: 12NN the following day
– P400 charge per extra bed
– P300 charge per extra person