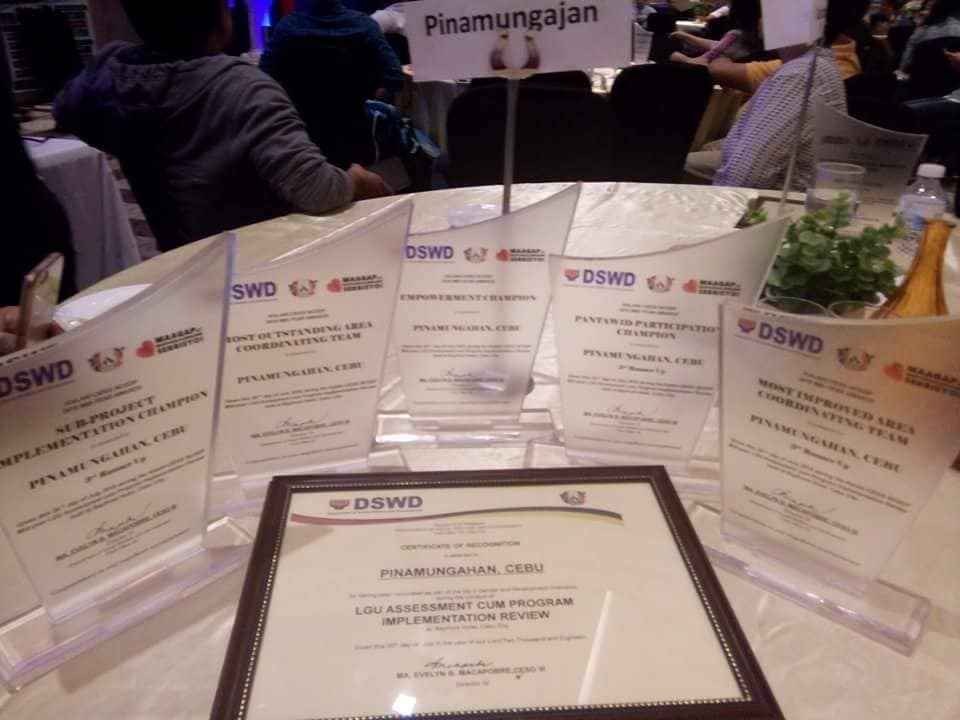 CONGRATULATIONS PINAMUNGAJAN for garnering 5 out of 9 awards for 94 implementing municipalities of KALAHI CIDSS programs during the LGU ASSESSMENT CUM IMPLEMENTATION REVIEW held at Bayfront Hotel for the entire region 7 which comprises the Provinces of Bohol, Siquijor, Negros Oriental and Central Visayas.
1. Empowerment Champion
2. Most Outstanding Area Coordinating Team
3. 3rd runner up, Sub Project Implementor
4. 2nd Runner up, Pantawid Participation Champion
5. Most Improved Area Coordinating Team
A measurement of performance for KALAHI CIDS programs and its effective implementation that empowered communities to acitively participate government endeavours.
Congratulations to everyone for its tireless efforts in bringing this program to where it is most needed.
To the Municipal Government of Pinamungajan, to its functionaries, to the barangays who believed and supported this program, KALAHI CIDSS team who worked beyond office hours and most especially to the communities whos concept of empowerment and involvement truly made this program effective and successful, we all deserve these AWARDS.
Again, CONGRATULATIONS MUNICIPALITY OF PINAMUNGAJAN!