SEN. TG Guingona Visits Pinamungajan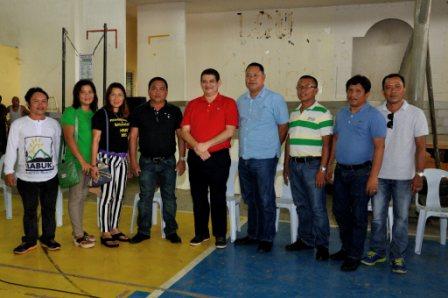 The Municipality of Pinamungajan took pride in welcoming the Chairman of the Senate Blue Ribbon Committee, Sen. Teofisto "TG" Guingona, III during his short visit last July 3, 2015.
The ceremony was well attended by Senior Citizens, Barangay Health Workers (BHW'S), Municipal Officials, Barangay Captains and some invited guests.
Mayor Glenn Baricuatro took the lead in welcoming the senator despite of their different party affiliations. Sen. Guingona belongs to Liberal Party while the mayor is from UNA.
The visayan speaking senator received applaud from the crowd when he started his speech using visayan dialect. He mentioned that he was born and raised in the visayas region thus speaking and understanding the language. The senator served two terms in the House of Representatives representing Bukidnon District before being elected as senator.
He is responsible for the passage of Republic Act 10645 which mandates the automatic Philhealth coverage of senior citizens throughout the country . To him, how we take care of our elders reflect our character as a nation and that serving his countrymen is a very noble profession and that no party color or affiliation can hinder him. He is a champion of good governance where transparency in the government service should be every politician's concern.
The visit concluded with a photo op with the audience.